Here is our last batch of War of the Kingdoms recaps for the month of August. Read up.
K24 force to be reckoned with after dominating performance against K27
It was all over but the shouting come the second half of the K24 versus K27 encounter that any recap we would be doing would just be a repeat of what has been mentioned in our early edition.
And since we are in a hurry to close the press for today (we are not yet done with our Alliance Mobilization quests), here to maintain our content quota are more battle reports from this matchup.
This month's dark horse beat last month's dark horse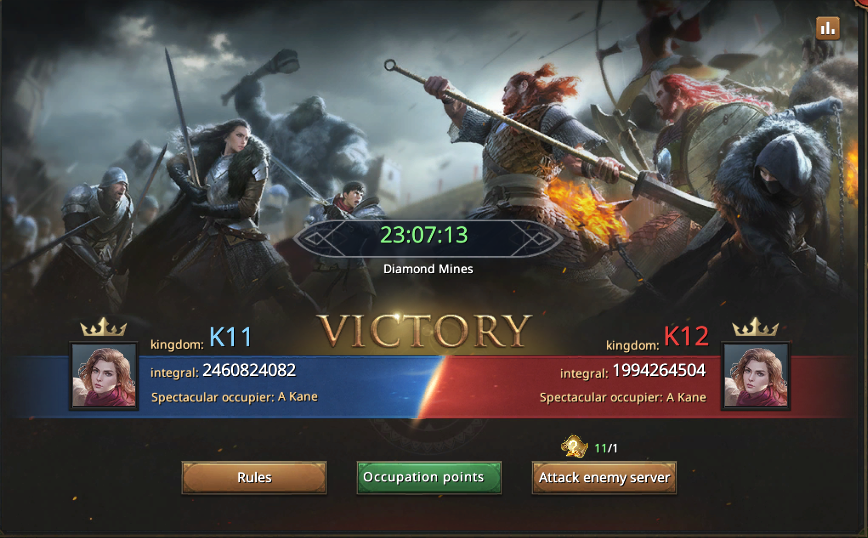 There is always that one match in the schedule that would defy oddsmakers. This is one of those.
The Raven Express was not really high on K11 coming into the War of the Kingdoms as it struggles to keep harmony. Just a week before the event, both leading alliances set up their own Common Hall for their populace to request King's Landing buffs from. In the occasion when neither of the two has Westeros' most important Great City in control, the common folk can go and ask on either as other alliances save for their rivals have access to critical channels and rooms on both. Such a weird arrangement, is it not?
Meanwhile, K12 is riding on momentum as they were still high in a surprise victory against K15 in the inaugural kingdom-against-kingdom competition. And then through the combined effort of everyone, K12 stopped TWICE Mina's coup d'etat right on its tracks, sending him packing to K14 to be with RedDevil (ReD).
Something not known to many though is that in the events that followed, Maleficent1 was granted Queen Emeritus status with Vampurr taking over royal duties for the kingdom. Transition has been smooth from what we observe, so we did not see any possible hindrances heading into the first week of August.
Then, War of the Kingdoms happened and our expectations were subverted.
THIS JUST IN: We just received word this week that two long-time allies on K11 has gone their separate ways. The breakup is quite amicable though as both sides are looking to agree to a NAP.
K17 being gracious in defeat to K15
Once again, courtesy of K17 correspondent WarSheep:
The big members of ELT (Elite) decided to play a bit so they did their share of points, but still in [a] dirty way… They even took one of our [Great Castles] to give it to the ennemy afterwards. But later on they did go to the enemy kingdom to take some of their [big castles].

[Lord Pingee] was a beast. [Congratulations] to him. I was not thinking clearly yesterday because I was really pissed off by the betrayal. I may have been hard on him… I am sorry for that.

Also, K15 was better prepared. [We at] DHR (DothrakiRiders) were on the middle of a meeting to prepare ourselves and our strategy when the [War of the Kingdoms begun], so we didn't have the time to have a [kingdom-wide] meeting to prepare our defense. Basically, we got caught with our pants on our knees.

I personally take the blame [for] it. I should have done that (meeting) a day before. I am sorry to all K17 members to have been focused too much on the war against ELT instead of kingdom safetyness. I will take that loss in account and learn from it to be a better king.

Congratulations to K15 members.
K37 bubbles up to victory; K38 crushes K34
A second-hand source informed us that K37's key to winning against K31 was trucing up. Go figure how they did that; we are mystified as well.
Meanwhile, here is the final tally of the K34 vs K38 pairing:
THIS JUST IN: HoundsfromH3ll (HfH) of K14 has decided to make K37 their new home, making quite an impression on the residents of the 30s kingdom.
Did we miss any matches this month? Give your own recap via raven message.
Support The Raven Express. Become a Patron today and be part of our Hall of Names!
Image courtesy of The New York Times.